Loading News...
1133 Yonge Street Toronto Nears Completion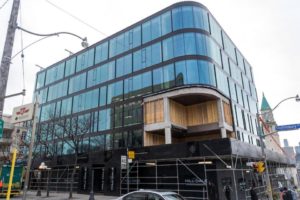 As seen in recent site photos, installation of the new, glassier cladding—including curved glass at the corners—is nearing completion in anticipation of the project's targeted 2017 completion.
While the re-cladding of the building's curtain wall is now in its final stages—extending up the building's exterior to its top floors—construction of the building's ground level and the reconfiguration of the curved entrance way continues to take shape. Along the building's south face, series of angled balconies will animate the flat frontage, with the restaurant patio situated below.
CareyGlass are delighted to be working with Flynn Construction and C3 Polymeric on this prestigious project.