Loading News...
2019 AN Best of Design Awards
"A revelatory rebuild…" Simon Houpt, The Globe and Mail
Diamond Schmitts highly acclaimed National Arts Centre Rejuvenation project has recieved an editors pick mention in the 2019 AN Best Design Awards – Category Building Renovation Civil.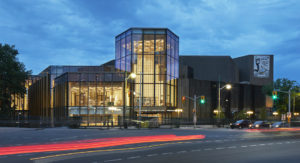 Diamond Schmitt Architects overhauled and expanded Ottawa's brutalist National Arts Centre, cladding it in glass to create a light-filled interior. The building's new glass facade spans roughly 25,00 square feet (2,300 square metres), while other insulated and opaque panels complete the exterior.  A new magnificent glass atrium with a glittering entrance on Elgin Street, embracing Confederation Square and some of the most iconic views of important landmarks in the nation's capital complete the project.
Some say the addition seems like it was always there. Striving for a balance of design that envigorizes the institution and makes a contemporary statement to a much-loved, but tired brutalist building required a delicate hand.
Most importantly, attitudes have changed. The National Arts Centre is now open and transparent, welcoming and communicating. Once again, looking to the future.
Previous Awards Received: 
2019 Civic Trust Awards – International Project: Commendation
2019 Ottawa Heritage Awards: Addition, Award of Excellence
2018 Ontario Association of Architects – Design Excellence Finalist
2018 BD+C Reconstruction Awards – Gold
2017 Ottawa Urban Design Awards – Urban infill lowrise
2017 Ontario WoodWorks! – Jury's Choice
2017 Wood Design and Building Awards – Award of Merit