Loading News...
CareyGlass Celebrates 50 Years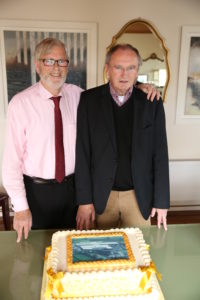 There was a quiet celebration last weekend amongst the Carey family, to mark the 50th anniversary of the CareyGlass Group. The business began in 1965 when three Carey brothers —Jim, Gus and William — saw an opening in the local building market. 
Initially supplying mirrors and bevelled glass, the company grew to become pioneers in the rapid growth of the double glazing market in Ireland. The business expanded into insulated glass and tempered glass, which saw massive development of the Nenagh facility (currently 800,000 sq. ft.) as well as the opening of factories in Lurgan, Co. Armagh, and Chester in the UK. Carey Glass International is now recognised as the leading independent glass processor in Europe and employs some seven hundred people. 
The success of the business really stems from carrying on the ethos of the three brothers from the day they stated out — always improve the products and the service we provide.  This is borne out by all the innovations we have come to be known for internationally over the years — our engineering team are on a never-ending drive to bring new product to industry and to the public.  
Gus Carey sadly passed away in 2007, not before he had seen the family business grow far beyond what he and his two brothers could have imagined back in those heady days in 1965.