Loading News...
Curved Glass Pioneer, CareyGlass Deploys Iconic Yonge Street Property in Downtown Toronto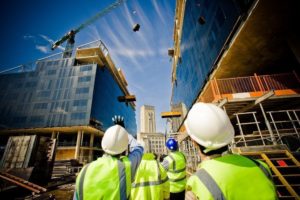 Enterprise Ireland, the national export agency, is proud to announce a major deployment of straight and curved insulated glass units from Tipperary-based CareyGlass, by Flynn Canada for a corner building on Yonge Street in Toronto's commercial hub. According to Sean Davis, Director, North America for Enterprise Ireland, the project underscores Ireland's innovation-leadership in construction technologies and demonstrates the strong bilateral working relationships between Irish and Canadian companies.
"The partnerships between Irish and Canadian construction and design organizations is getting stronger with each successful project," said Davis. "This exciting development by Flynn Canada with CareyGlass demonstrates how the innovation and engineering capabilities of an Irish firm can complement the design and construction capabilities of a Canadian firm. At Enterprise Ireland, we are pleased to support these partnerships and to provide the North America architectural and construction community with access to some of the brightest ideas and best run organizations from the other side of the Atlantic."
Situated on the corner of Yonge Street and Shaftesbury Ave in the heart of Toronto's affluent Rosedale and Summerhill neighborhoods, the building is a six-story, 60,000 square-foot development for office and retail that was completed in 2017. Tenants already confirmed include Sherritt International Corporation, Prairie Mines & Royalty Ltd, and Royal Utilities Income Fund.
Commenting on the project, Mike Carew, North American Sales Director at CareyGlass noted, "The workplace is evolving a high pace and with important techniques such as daylighting now becoming standard, glass is playing a huge part in the design and delivery of more progressive, effective spaces for offices, retail and hospitality. We are very pleased to work on this project with Flynn Canada and we're grateful to Enterprise Ireland for supporting our growth in North America."
CareyGlass International is one of Europe's largest independent glass processors. The company was established in 1965 by three Carey Brothers in Tipperary Ireland and has grown to a multinational success.
Processing is spread across three manufacturing sites; The Republic of Ireland at 850,000 sq. ft. is the largest single processing site in Europe, Northern Ireland stands at 120,000 sq. ft. and the UK at 80,000 sq. ft. The company exports 60% of its production capacity to Europe and North America.
Source: Enterprise Ireland
https://irishadvantage.com/curved-glass-pioneer-careyglass-deploys-iconic-yonge-street-property-downtown-toronto/