Loading News...
Frascati Shopping Centre Wins Retail Project of the Year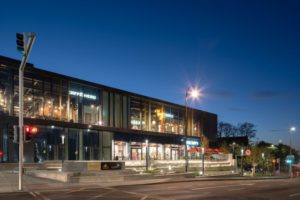 Many congratulations to Collen Constructions Frascati Centre in Co. Dublin which took home the award for Retail Project of the Year at the 2020 Irish Construction Industry Awards.
Designed by Newham Mulligan Associates the €30 million programme of extension and refurbishment has doubled the centre in size and now has more than 170,000sq ft for retail and other uses. This complex project was completed while keeping the centre open to the public.
A new glazed roof in conjunction with the curved feature wall is the standout feature of the new building which allows natural light to flood the atrium.
The scheme's anchor tenants include Marks & Spencer, Aldi and Debenhams, its retail offering also comprises Vodafone, Boots, Bannon Jewellers, Vienna Shoes, Bookstation, Pamela Scott, Serena Boutique, Sun Bear Gelato, Health Store and Murrays Mobile.
The Frascati Centre's new, dedicated restaurant hub includes Five Guys, Cafe Nero, Kays Kitchen, McDonalds, and M&S Cafe with more to come. The space at the hub boasts panoramic views over Dublin Bay.
The centre also offers Ireland's first dedicated health and beauty quarter which includes a flagship new Peter Marks, a gents' grooming/pampering studio at Sugar Daddy's, sugar coated manicures, Sisu Aesthetics Clinic beauty alongside Blackrock Medical Centre, the Yoga Hub and a gym.
Glass by CareyGlass