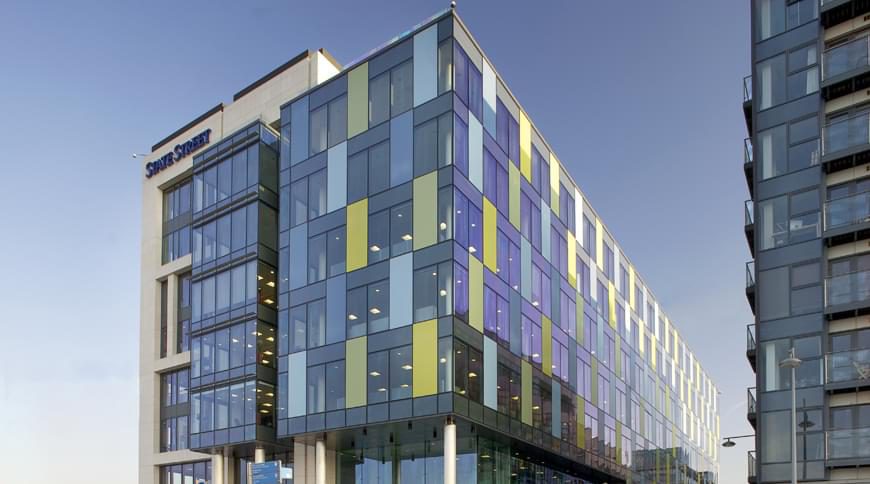 Building: State Street, Irish Headquarters
Location: Sir John Rogerson's Quay, Dublin, Ireland
Size: 15,330 sq m (165,000 sq ft)
Contractor: Danninger
Architect: O'Mahony Pike

Summary
More than 1,100 employees will occupy the new Irish headquarters of financial services giant State Street. The eight-storey office block is part of a larger mixed-use development that will include both retail and residential units.
Glass
Large (up to 3,000 mm x 1,500 mm) triple-glazed façade units made with toughened 6 mm glass panes, opaque painted glass panels in a delicate palette of yellow, lime and blue
Details
The completed office block is a two-part building: a western wing treated with a chequered pattern of softly coloured, opaque and clear flush glazing, balanced by a taller eastern wing designed as a stone box with a protruding curtain wall containing a more regular pattern. The stone block now acts as a strong and definite bookend to the entire quay when viewed along the River Liffey.
The opaque coloured glass panels both welcome in the light and reflect the ever-changing tones of colour in the sky, the river and the stone and traditional materials of the quay. The clever use of these specific colours lets the building embed itself within its context. Sir John Rogerson's Quay is such an old and historic part of Dublin city, and colour helps make this very modern building feel like part of it.