Loading News...
The Jade Nears Completion. Live. Life. Downtown.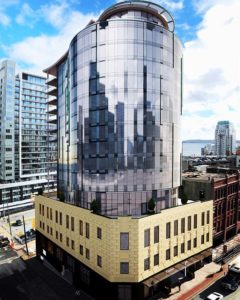 The Jade, 1595 Barrington Street is nearing completion and will bring to market new retail supply in the heart of Downtown Halifax, Canada.
Drawing inspiration from a semi-precious gemstone that takes a high polish, The Jade is Halifax's new crown jewel, meticulously appointed as an object of timeless beauty. It is designed to sit seamlessly on the corner of a thriving urban community, and the ocean's edge. Bathed in plenty of natural light, it features spacious floor plans and private balconies with spectacular views.
The Jade offers an enviable lifestyle with unparalleled amenities, iconic architecture and finishes, and a premium location that connects to all of downtown.
CareyGlass are delighted to have supplied this iconic building.