Loading News...
The New Maldron Hotel Belfast Opens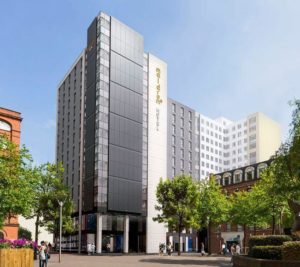 The new Maldron Hotel in Belfast opens with 110 jobs. Design by Consarc Design Group, Main Contractor McAleer & Rushe and Glass by CareyGlass. The hotel represents a £24m investment by its parent company Dalata Hotel Group.
The Maldron Hotel Belfast City stretches to 237 rooms and is the group's fourth hotel in Northern Ireland in a portfolio which includes the Maldron Hotel at Belfast International Airport, Maldron Hotel in Derry and Clayton Hotel on Ormeau Avenue in Belfast.
CEO of Dalata Group Pat McCann said the latest development continues a busy period for the group.
"We are thrilled to be opening another Dalata hotel here in Belfast, and hugely impressed with the level of talent we have seen throughout our recruitment and staffing process," he said.
Dalata Hotel Group is Ireland's largest hotel operator, with a current portfolio of 38 three and four star hotels with over 7,700 rooms.