Loading News...
80 Atlantic Avenue Receives The Governor General's Medal in Architecture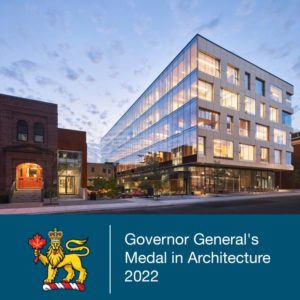 The Governor General's Medal reflects the very best in Canadian architecture, BDP Quadrangle and Hullmark received the medal from Her Excellency the Right Honourable Mary Simon, at a ceremony held at Rideau Hall in Ottawa yesterday. The culmination of years of ideation, planning and building.
80 Atlantic sits in the heart of Toronto's Liberty Village and reflects what modern, sustainable design should look like. Built on a former industrial site, the project represents a commitment to minimizing its carbon footprint as well as a firm belief that modernity and adaptability can be tools to preserve our heritage.
80 Atlantic is Toronto's first mass timber framed office building in over a century. This material selection is not only more sustainable than steel or concrete, but it is also fire resistant and highly durable. In concert with optimizing air flow, natural light capture, and the integration of electrical and communication systems, it's no surprise why they won.
Jointly administered with the Canada Council for the Arts, The Medal in Architecture reflects the wide range of thought and approach that Canadian architects are employing in their work. From academia and government to fine arts and Indigenous culture, Canadian architecture is making its mark on society and influencing how we work, reflect, and interact with one another.
Congratulations to the entire team at BDP Quadrangle and Hullmark on this incredible achievement!
Glass by CareyGlass.