Loading News...
Portland International Airport Gets Its Biggest Makeover to Date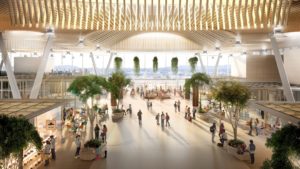 Hailed as "America's Best Airport," Portland International Airport plans to significantly increase capacity over the next two decades to accommodate 35 million passengers annually. The ZGF-designed main terminal expansion doubles the footprint while inviting passengers and employees alike to celebrate the beauty of the Pacific Northwest. Upon entering the new terminal core, visitors are invited to take a walk in the forest.  With vast windows and skylights providing daylight and views to the airfield, interior landscape, and art recalling the region's natural beauty are present throughout the passenger journey
The grand halls immediately after each security checkpoint will be reconstructed with 30-foot ceilings, expansive window views, tons of natural light, greenery at every eye-level, and a lineup of concessions designed to look like a city streetscape, complete with pergola-style canopies and sidewalk seating.
PDX has been recognized as the best airport in the United States eight times in the last decade. The airport consistently ranks high when it comes to customer service, based on its facilities, accessibility, and security.
CareyGlass are extremely proud to be supplying this stunning landmark project.