Loading News...
80 Atlantic wins Office Development of the Year and Green Award at 2020 REX Awards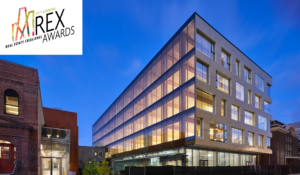 80 Atlantic Avenue, Toronto adds to its list of achievements. Toronto's first multi-storey mass timber office building in 100 years has received two awards at the 19th Annual Real Estate Excellence Awards (REX Awards)! The Office Development of the Year and Green Development of the Year which recognizes green leadership in office, industrial and retail / mixed-use real estate projects. This is in addition to the Mass Timber Design Award the building received in March this year
80 Atlantic takes the best of the centuries-old brick and beam typology and adapts it to 21st century performance needs including excellent thermal comfort, energy efficiency, a durable building envelope and an acoustically sound environment. The Canadian grown and pre-fabricated NLT structure is highly sustainable with half the embodied carbon than the same building, had it been designed solely in concrete. 80 Atlantic also has Toronto's first green roof on a mass timber structure.
All glass by CareyGlass.