Loading News...
Handel Architects Brings Home Gold for The Essex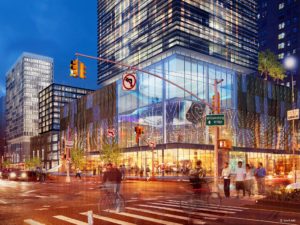 The 14th edition of the MHN awards program honors the industry's outstanding deals, projects and professionals. A panel of distinguished industry professionals evaluated submissions across more than 25 distinct categories. We are delighted that The Essex was awarded the gold prize in the category, Best Mixed-Use Project. The Essex Street Market celebrated its 75th birthday in 2016. Three-quarters of a century later, the southernmost warehouse between Broome and Delancey is now completely gone, and in its place a 'glassy' new megaproject designed by Handel Architects. In addition to residential, office and retail space, 115 Delancey Street features a 14-screeen cinema and an urban farm on the podium roof. The building is the largest in the wider Essex Crossing megaproject, a new 150,000 square-metre development that includes apartments, a 1,400 square-metre urban park, a new and expanded Essex Street Market, a wide range of retail units and 26,000 square metres of office space.
Congratulations to Handel Architects for the well-earned recognition!
Design by: Handel Architects
General Contractor: T.G. Nickel
Glass: CareyGlass