Loading News...
Universal Music Group Move into 80 Atlantic Avenue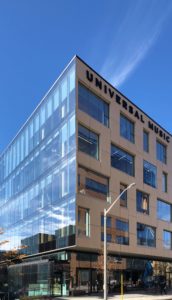 A Match Made in Heaven – Universal Music Group Canada  moves into the award winning 80 Atlantic Avenue.
The world's leading entrepreneurial music company renowned for creativity and innovation chooses Toronto's first timber-frame commercial building to be built in a generation as its new home. Designed by Quadrangle, 80 Atlantic takes the best of the centuries-old brick and beam typology and adapts it to 21st century performance needs including excellent thermal comfort, energy efficiency, a durable building envelope and an acoustically sound environment.
Universal Music Canada President and CEO Jeffrey Remedios revealed the company's plans to move the from their North York office to the Toronto tech hub located in the city's west end.
"80 Atlantic will be the next phase of the growth and evolution of our city's music community as we build greater resources and support for artists, enabling them to fully refine their craft at home," said Remedios outside the new location across from Lamport Stadium.
The new facility will be "so much more than a record label's office," as Remedios revealed plans for recording, live performance, content creation, and fan-focused spaces, which will be open to independent artists.
"Universal is on the edge of innovation and digitization that continues to transform music and every aspect of our lives," said Toronto Mayor John Tory  "This is the kind of creativity and innovation that I want to see in every corner of Toronto."
"Musicians attract other musicians," Tory added, "and that is good for the soul of the city."
80 Atlantic Avenue, Toronto, Canada
Design: Quadrangle
General Contractor: Eastern Construction Company Limited
Glass: CareyGlass
Awards:
2020 The Mass Timber Design Award
2020 REX Awards – Office Development of the Year
2020 REX Awards – Green Development of the Year