Loading News...
Perkins + Will's Prismatic Facade Scheme Wins Competition for York University Building in Toronto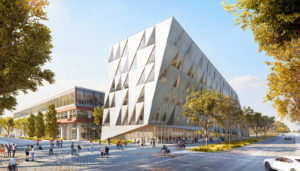 Perkins+Will's triangulated facade scheme has won an international competition for the design of the new School of Continuing Studies at York University's Keele campus outside of Toronto, Canada.
Beating out proposals from top firms, including finalists HOK andGow Hastings Architects with Henning Larsen, Perkins+Will's design twists as it rises, both reacting to solar optimization studies and opening up the building to create a new gateway at the campus' southeast entrance.
The new building will house the School of Continuing Studies, established three years ago to support international students, new Canadians and professionals looking to meet the "rapidly evolving demands of the workplaces of tomorrow." The design will cater to these user through the creation of "warm and inviting spaces that inspire student communities to form," and by increasing connections between spaces to encourage interaction and a culture of familiarity.
But the standout feature of the design is the high performance prismatic facade, composed of photovoltaic panels and glazed openings to bring natural light into the building.
The design is aiming for a range of sustainable metrics, including targeting a minimum of LEED Gold certification and a Passive House standard building envelope. To achieve this, the building will include heat recovery ventilation systems and the aformentioned integrated photovoltaic panels that will allow electricity to be generated on site. In addition, the architects and school are collaborating to explore the possibility of introducing mass timber as the building's main structure.
"The creation of a new, stand-alone home for our School of Continuing Studies is another important step forward in improving access to post-secondary education at York," said York University President and Vice-Chancellor Rhonda Lenton. "This new building will enable us to create even more lifelong learning opportunities, build connections with local and international communities, and help students of all ages and backgrounds to achieve their fullest potential."
CareyGlass are delighted to be supplying this building.
Source: Arch Daily