Loading News...
Portland's Ritz-Carlton Developer on Why Things are Looking Good for a 2023 Opening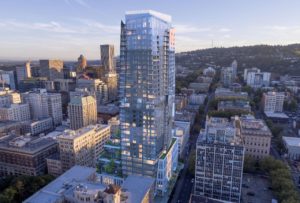 Source: Jonathan Bach  –  Staff Reporter, Portland Business Journal
Downtown Portland's planned Ritz-Carlton was revealed in 2019 during a wholly different time for hotels, long before a health crisis shattered traveler confidence and tossed other hotel bookings into a windy freefall.
Despite the past year, plans for the Northwest's first Ritz are moving forward, and luxury hoteliers appear to be standing by the project.
"There have been no discussions at all about pulling out of the project," said Walter Bowen, whose BPM Real Estate Group is developing Block 216, the $600 million high-risewhere guest rooms will accompany condos and offices on the corner of Southwest Alder Street and Southwest 10th Avenue. "We already have an agreement with them, and it's a solid agreement."
Bowen said Ritz-Carlton and Marriott have been delightful to work with. Marriott International (Nasdaq: MAR) is the hospitality giant that bought the Ritz-Carlton years ago.
Another hotel with Marriott ties has already opened this yearin downtown Portland: a millennial-aimed brand called Moxy by Marriott, promising flat-screen TVs, fast internet and flip-down desks. While it's part of the Marriott portfolio, that hotel is managed and owned by Grave Hospitality, according to a spokeswoman.
The broader market, for now, remains unpleasant for hoteliers. Real estate company CBRE doesn't have key Portland-area hotel metrics exceeding pre-pandemic levels until 2024. Still, some recovery is expected this year. Block 216 is scheduled to open in 2023.
"It's certainly better that a hotel of that size and of that caliber is still a couple years out," said Alan Jutte, who leads the west division for CBRE's hotel valuation practice. The market will be allowed to "substantially" recover. "There isn't a five-star property in Portland right now, so that'll be good for the market," Jutte said.
Bowen voiced optimism in a phone interview this week. "People are starting to travel more. The vaccine is working," he said. "Things are coming along, I think, quite nicely for our opening."