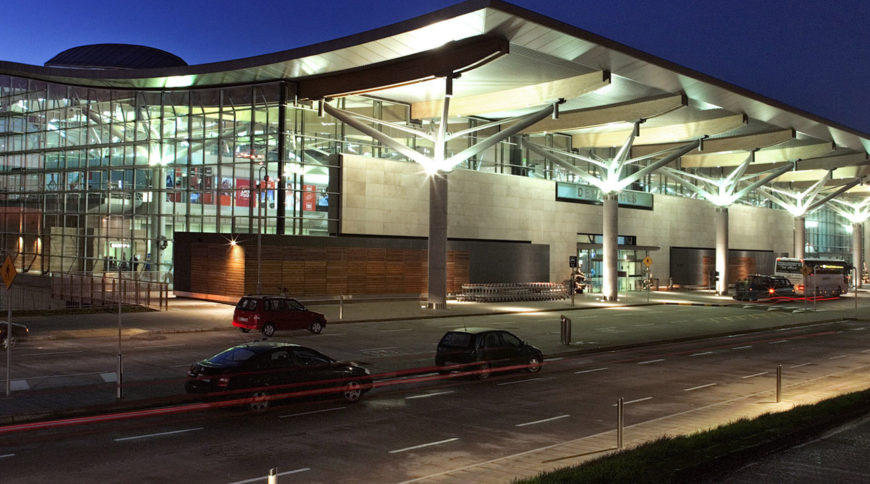 Building: Cork Airport
Location: Co. Cork, Ireland

Contractor: BAM Ireland
Architect: Jacobs Engineering

Summary
This Design and Build project involved the construction of a new Terminal Building and ancillary works to increase capacity from 1.1 million to 3 million passengers per annum.
Glass
The glass façade forms the central aesthetic feature of the building, lending an immense feeling of space to the building, allowing natural light to flood through. In total, the façade is 5,600 sq metres of structural glazing and has an immense impact on the acoustic and heating concerns in the design and construction of the building. Supported by exposed vertical trusses, the façade ranges in height on the various sides of the building, reaching a height of 16 metres on airside allowing passengers and visitors a view of the incoming and departing aircraft. The external façade also incorporates cedar and limestone cladding. With over 5,600m2 of structural galzing to the building façade, factors such as acoustic and thermal performance had a massive impact on the design of this element of the building
Details
Cork Airport's new terminal building opened its doors on August 1, 2006 for arriving passengers and from August 15, 2006 for all passengers. For the first time in the airport's history, Cork Airport had over three million passengers pass through its doors in 2006, making it the Republic of Ireland's third busiest airport.