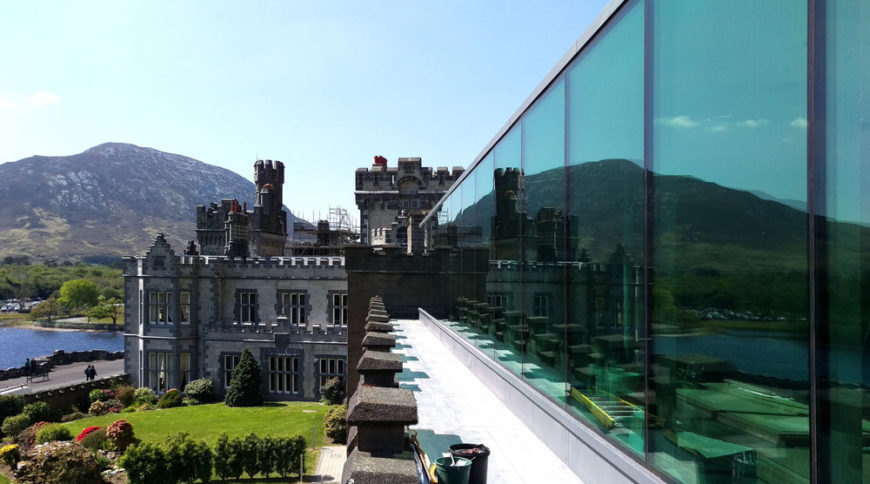 Building: Kylemore Abbey
Location: County Galway, Connemara, Ireland

Contractor: Carey Building Contractors
Architect: AXO Architects

Summary
The story of Kylemore Abbey is a truly remarkable one that spans over 150 year of tragedy, romance, innovation, education and spirituality. Built as a breathtaking Castle in 1868,it is now the Abbey and home of the Benedictine community of nuns.
Glass
When a new roof level extension was required on Saint Joseph's Hall at Kylemore Abbey, there were considerable design challenges.
The simple rectilinear form which resulted is set back from all facades to diminish its volume and presence against the established Abbey buildings. The green glass plane reflects the natural environment of Kylemore to assimilate the building into its natural landscape and setting. The scale, form, relative positioning, restrained palette of materials and lightweight appearance of the new level combine to create a visually sensitive response to the established setting of Kylemore Abbey.
Details
Described by Oscar Wilde as "a savage beauty", it is a region of awe-inspiring, unspoilt and natural beauty. Its patchwork of lakes, rugged mountains, and windswept bogs certainly gives a sense of splendid isolation. The raw beauty, sweeping vistas and constantly changing moods of the Connemara landscape have captured the hearts and minds of generations of artists, writers and musicians. Therefore glass was the ideal material to use for the new roof extension, blending beautifully with this magnificent castle.