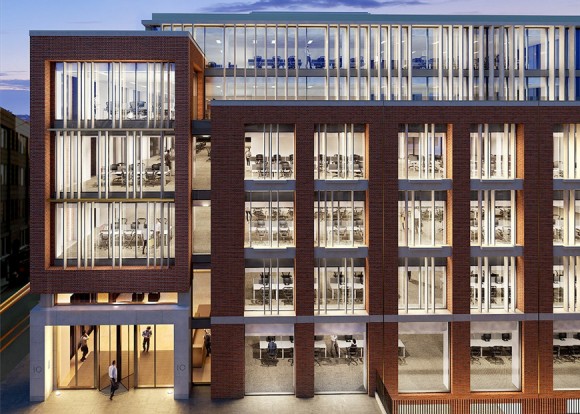 Building: Ten Molesworth Street
Location: Dublin, Ireland

Contractor: P J Hegarty & Sons
Architect: Henry J Lyons Architects

Summary
The most prestigious address in Dublin. Renowned architects Henry J. Lyons have combined contemporary design with superior craftsmanship and meticulous attention to detail to produce a unique building finished to exceptionally high standards. The striking double height entrance is framed in Portland stone and bronze detailing. The elevations are finished in a combination of handmade Coleford brick, Portland stone and full height, floor-to-ceiling windows incorporating finely honed stone fins. Floor-to-ceiling windows offer views of Molesworth Street, South Frederick Street and the courtyard gardens, flooding the interior with natural light.
Glass
V1
• 8mm super neutral 70/35, heat strengthened
• 16mm argon fill, black warm edge spacer
• 11.5mm clear laminated, heat strengthened
V2
• 10mm solar neutral HP TG 70/35 toughened heat strengthened
• 20mm black warm edge spacer
• 21.52mm clear heat strengthened laminate
Details
The emphasis on sustainability and energy efficiency in the design of the building, underwritten by LEED accreditation, ensures that building occupiers can minimize both operational costs and environmental impact. This sustainable approach also helps to boost human performance and individual well-being.