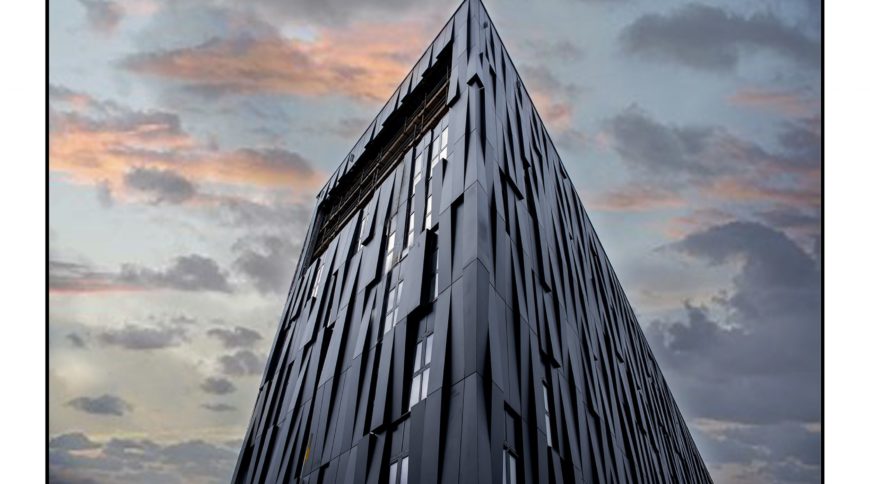 Building: The Dean Hotel
Location: Horgans Quay, Co. Cork, Ireland

Contractor: BAM
Architect: Wilson Architecture OMMW

Summary
Designed by Wilson Architecture OMMW, the dramatic, 136-bed Dean Hotel is wedge-shaped with an edgy black aluminium skin. Wilson Architecture MD, Frank O'Mahony says, "the Dean Hotel is designed as a strong sculptural shape within the overall development, and with its dramatic, parapet profile, reflecting the sloping land forms to the north, it will be a signature building on the approaches to and from the railway station".
The Dean Hotel also includes Sophie's Rooftop Restaurant and Bar, a dedicated events space, a DIME Coffee hatch and lobby area, as well as POWER boutique gym.
Glass
6mm Low E 1.0 Heat Strengthened - 16mm Warm Edge – 9.5mm Heat Strengthened, Laminate
13.5mmm Heat Strengthened 51-28 – 20mm Warm Edge Toggle – 10mm Toughened, Heat Soak Tested
Details
Unusually, in the north quays, Wilson have designed two contrasting buildings — the Dean Hotel and the 250,000 sq ft Penrose Dock office development (also supplied by CareyGlass) — that are simultaneously under construction, on sites almost rubbing shoulders and facing one another across a new public realm and only 100 metres apart.