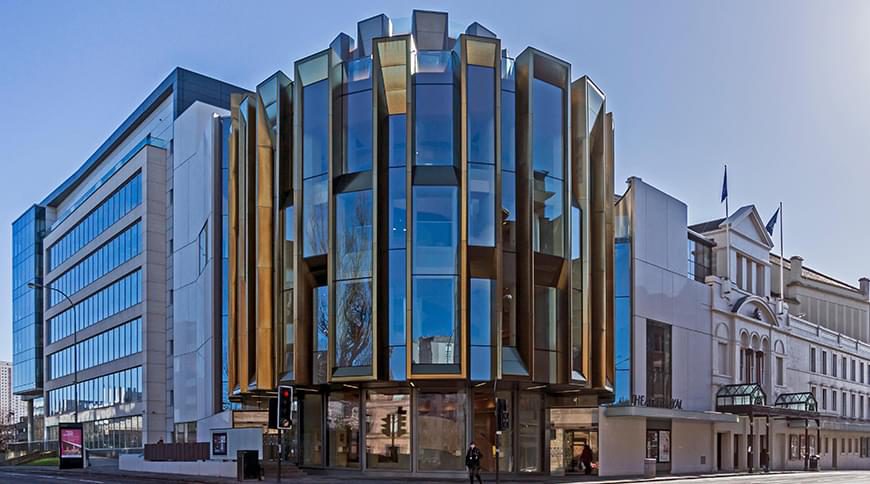 Building: Theatre Royal
Location: Glasgow, Scotland
Size: 2,500 sq m (26,910 sq ft)
Contractor: Sir Robert McAlpine
Architect: Page\Park

Summary
The redevelopment of Glasgow's longest serving theatre is one of 12 successful schemes recognised by the Royal Incorporation of Architects in Scotland as best representing contemporary architecture in Scotland.
Glass
Large (2,300 mm x 3,900 mm) double-glazed units featuring low-e glass; a combination of louvres, windows and roof vents across five floors, featuring 6 mm and 10 mm high-performance 70/37 glass, with lamination, heat strengthening, ceramic painting and argon-filled units
Details
For the 2014 reopening of the Theatre Royal in Glasgow, architects Page\Park were chosen to design a new foyer. The result engages solidly with the existing structure, while the bold brassy facade also revels in the art of showing off. The large glinting structural glass windows afford generous views of Glasgow and flood the new addition with natural daylight. The high level lantern and low-e glazing lends a natural, bright, calm quality and reduces the energy required for artificial lighting. The glazing envelope along with the cladding offers 33dB sound reductions across the facade.
The redevelopment of the famous Theatre Royal in Glasgow, includes a smoke and natural ventilation system, incorporating a combination of louvres, windows and roof vents across its five floors. Controls are linked to the Building Management System, allowing for incremental opening of all vents.