Loading News...
Seattle's High-Rise Convention Center Nears Completion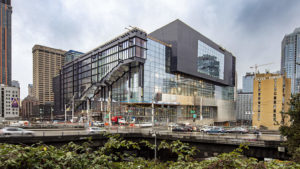 Image courtesy Adam Hunter/LMN Architects.
BY NOVID PARSI, CONTRIBUTING EDITOR | APRIL 14, 2022
The 1.5-million-square-foot addition includes two mixed-use office and residential towers.
The new Washington State Convention Center Summit Building—billed as the first high-rise convention center in North America—is on track to complete most of its construction later this year.
Designed by LMN Architects, the 1.5-million-square-foot addition to the Seattle Convention Center occupies four city blocks in the heart of the city's business and entertainment district. Located among several of Seattle's densest neighborhoods, the project intends to serve as a connecting hub, with a southeast corner that cantilevers over the adjacent highway.
The building's vertical organization, along with numerous flexible event spaces that include a 100,000-square-foot hall, aims to provide efficiency and flexibility for a variety of uses, from single large shows to concurrent visitor and community events.
Mixed-Use Towers
The project also includes two mixed-use towers: a 540,000-square-foot office tower and an approximately 400-unit residential tower. The development offers 36,000 square feet of retail space as well as 16,000 square feet of public open space.
The interior spaces feature a 200-foot-tall atrium, as well as an array of sustainable, local, and regional materials. Salvaged wood—some from an old building demolished on site and other wood salvaged from log booms—is featured throughout the building. Local artists from diverse communities are creating over 20 art pieces and installations for the project.
The Summit Building's community benefits package includes affordable housing, public art, public open space, and infrastructure improvements for pedestrian, bicycle, and transit. The convention center is "more like urban infrastructure than a single building," according to a statement from LMN Architects. "The project elevates the quality of the urban experience with welcoming community places and experiences, both formal and informal, creating a focus of civic life and identity."
Owner and developer: Seattle Convention Center
Design architect and architect of record: LMN Architects
MEP engineer: Arup in association with McCleskey Consulting, SN Consulting, and FSi Consulting
Structural engineer: Magnusson Klemencic Associates in association with Carla Keel Group and Lund Opsahl
General contractor/construction manager: Clark/Lewis
All glass by CareyGlass