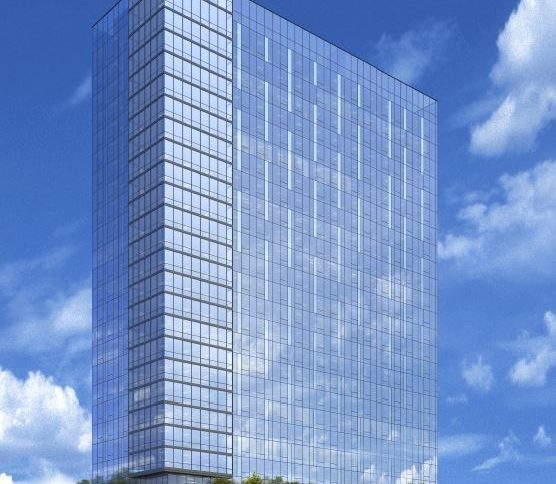 Building: The Centre Huguenot
Location: New Rochelle, N.Y., U.S.A.

Contractor: Cappelli
Architect: Lessard Design

Summary
This project, the Centre/Huguenot is a two-tower development located at the corners of Centre Avenue and Huguenot Street. The 28-story project features 249 dwelling units, 241 on-site parking spaces, and 1,00 square feet ground floor retail space. 327 Huguenot is across from 339 Huguenot and will be connected via a bridge across Centre Ave. The Developer is Huguenot Partners, LLC. Huguenot Partners, LLC is a joint venture between DHA Capital LLC of Manhattan and Fuller Development Company, an affiliate of the Cappelli Organization. The architect is Lessard Designs.
Details
With a history dating back to 1688, when the French Huguenots landed at Long Island shore near today's New Rochelle, Downtown New Rochelle has long attracted new residents with its stunning beauty and thriving businesses. Normal Rockwell, who grew up in the area, used Downtown New Rochelle as inspiration for several of his paintings. Considered one of the best places to live, New Rochelle contains some of the nation's most expensive real estate – but affordable options are equally available, especially in the downtown area.
The historic Downtown neighborhood features amazing views of the Long Island Sound and the Manhattan skyline. Extremely walkable, residents head out to explore the many shops and restaurants along the shoreline. The architecture alone is inspiring, ranging from Art Deco to Romanesque to Colonial Revival. Getting around the New York area is easy from New Rochelle.